TROY 45 DEGREE OFFSET DELTA 1 SIGHTS®
TROY has teamed up with Gun Pro to offer their Delta 1 Sights® on our popular 45 Degree Offset Battle Sights. Gun Pro's Delta 1 Sight posts offer a simple single-point sight alignment that requires little or no visual and mental estimation delivering a lightning fast, precise sight alignment. Designed with the 3-gunner in mind, Delta 1 Sights offer a faster and more natural target acquisition when transitioning from rifle to pistol (when equipped on both firearms).
Click Through for more High Res images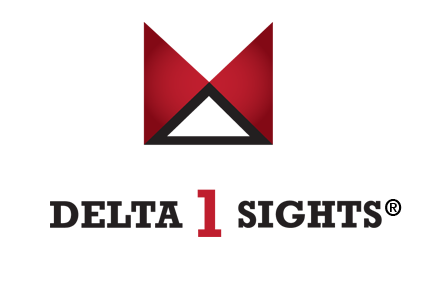 TROY's line of SOCC (Special Operations Compatible Carbine) firearms and upgrades are designed to be lightweight and ultra-low profile; developed specifically for today's war fighters and led by Special Operations field requirements.
Prior to adopting the M4 the USAF upgraded and modernized their GAU/5/As and GAU-5/A/As for the M855 ammo.  The TROY USAF GUU-5/P pays homage to the GUU-5/Ps with this affordable package. This Rifle features a TROY slick-side upper receiver with a carrying handle and alpha-style front sight.
BLACK SKU: SCAR-GU5-16BT-00
TROY's new line of rifles feature a piston replacement of the traditional gas impingement system. The action of a piston rifle remains cool and clean, and avoids fouling the bolt with gas from repeated firing. The bolt carrier can be removed immediately and held in your hand without burning yourself.
10.5″ CQB Variant SKU: SRIF-SPC-10BT-00
14.5″ CARBINE Variant SKU: SRIF-SPC-14BT-00
16″ RIFLE Variant SKU: SRIF-SPC-16BT-00
TROY's CQB- Optic Ready Rifle ships without sights to allow you to add your own optics. The rifle is dressed with TROY's BattleAx™ Control grip and M4 Style 6-position stock with TROY markings and features a forged lower receiver, M4A4 type flat top forged upper receiver, M4 feed ramps, and TROY Enhanced Trigger Guard. Finished in hardcoat anodizing. Available in black only.
Black SKU : SCAR-MA4-16BT-01
TROY Pump Action Rifle Update in 2017
Starting early in 2017 all variants of TROY's Pump Action Rifles will sport a new, ergonomic pump grip. The new clamping grip attachment system allows for smoother action and even greater reliability on the range or in the field.
Patent Pending.
TROY® Branding Guidelines
Please refer to the TROY® Branding Guidelines sheet for proper usage of the TROY logo and Logotype.

Download the Branding Guidelines PDF 5.9mb
TROY, MRF, ALPHA RAIL, DOA, BattleMag, BattleSling, Squid Grip, TROY CAR 14, the Trojan Horse design, CBIR T, TROY CAR14, Medieval Muzzle Brake, Claymore Muzzle Brake, BattleRail, DOA, are registered trademarks of TROY Industries, Inc., West Springfield, MA. BattleAx, BattleReady, BattleSights, World of TROY, Revolution, S.A.S.S. Chassis, the TROY horse shield logo, Revolution, Innovation through Experience, There is only one name to remember: TROY, and Just Because The Light's Not Perfect Does Not Mean Your Aim Shouldn't Be are trademarks of TROY Industries, Inc., West Springfield, MA.
2016 © TROY Industries
WorldOfTroy.com | 151 Capital Drive, W. Springfield, MA U.S.A. | 866.788.6412 | sales@troyind.com
Colt Defense, Smith & Wesson, Strum Ruger & Company, Viking Tactics, VTAC, Way of the Gun, POF-USA, LaRue Tactical, Noveske, HK Defense, CZ International, Fabbrica d'Armi Pietro Beretta S.p.A., FN Herstal, Velcro Israel Weapons industrys, KRISS, LWRC International, M-LOK, LMT, AR-10, SIG556, Cobra, MultiCam, Velcro and Remington Arms Company, LLC. are registered trademarks of their respective owners.
TROY products are manufactured under one or more of the following patents: U.S. Patents: 8,621,775 B2; 7,216,451; 8,037,633; 8,356,440, 8,375,619; 8,438,770 B2; 8,756,849; 8,549,982; 8,713,832; 8,707,603; 8,464,457; 8,578,642; 8,695,261; 8,707,610; 8,707,604; 8,839,544; D639,889; D639,890. U.S. Patents Pending: Applications 12/710,130; 13/281,462; 13/315,904; 13/315,932; 13/349,551; 13/351,483; 13/349,796; 13/433,621; 13/467,278; 13/469,319; 13/469,330; 13/469,814; 14/065,221; 14/152,174; 14/145,739; 29/471,356; 61/897,170; 61/926,558. Foreign Patent Application: Israel 210728; PCT/US14/62969.
Purchase of the products listed in this catalogue may be restricted by Federal, State, and / or Local Law. Such laws may include, but are not limited to, the International Traffic in Arms Regulations (ITAR), the Export Administration Regulations (EAR), the Gun Control Act, and the National Firearms Act. We do not and cannot grant the right or authority to anybody to purchase items which may be regulated pursuant to such laws. TROY products controlled by the ITAR and EAR may not be exported without appropriate consent and licensing. We reserve the right to make design, material and/or pricing modifications and/or changes without prior notice. While TROY attempts to provide accurate information, there may be inadvertent inaccuracies. TROY is not responsible for, and reserves the right to correct, any such inaccuracies.